How to Clean Stained Invisalign Trays?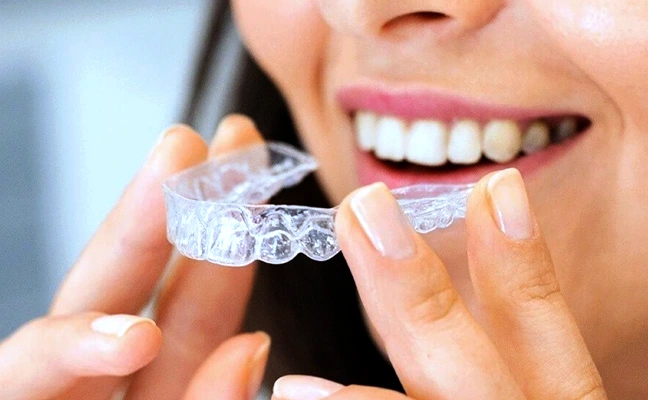 You may straighten your teeth using Invisalign in Annapolis without having to put up with the discomfort of wearing conventional braces. Although they are transparent and essentially undetectable, you must be aware of how to clean Invisalign trays. Fortunately, there are several techniques to eliminate discoloration and the ugly yellow color that can affect messy trays.
In a previous blog post, we discussed how Invisalign works, its advantages, and treatment plans. Here we will learn different ways to clean stained Invisalign trays. Cleaning Invisalign trays is essential to keep them clear and free from stains caused by food particles and drinks like tea, coffee, or red wine. In this post, we will discuss five additional methods and products that can help you clean your Invisalign trays effectively, ensuring they look new and polished.
Here are simple ways a dentist near me in Annapolis suggests, to clean Invisalign retainers and avoid tray stains.
Say Goodbye to Stained Invisalign Trays: Easy Cleaning Methods:
Begin a Rise-and-Shine Schedule:

Your Invisalign trays must be worn at night for them to be effective. Additionally, while you are sleeping, bacteria might be actively assembling on your braces and teeth. Therefore, a dentist in Annapolis suggests cleaning your mouth and Invisalign trays in your morning routine to get rid of these potentially hazardous bacteria.

Use Antibacterial Soft Soap To Clean Your Trays:

Use an antibacterial mild cleanser to brush your trays every time you brush your teeth. Remember to use circular and gentle circular movements when brushing your tray. Your tray's surface may become damaged if you brush them too vigorously.

Baking Soda:

An alternative remedy for yellowing aligners is baking soda. Because baking soda naturally whitens objects, it's the ideal way to stop your aligners from yellowing and restore them to their invisible state.

One spoonful of baking soda and 1/2 cup of water should be combined in a small container. Blend gently until the paste forms, then immerse your aligners for 60 minutes. Your aligners should then be clear again after rinsing with lukewarm water.

Invisalign Crystals and Water:

Placing your Invisalign trays in a solution containing Invisalign cleaning crystals is one of the best ways to remove stains from your trays. Just add a pack of crystals to a cup that has been filled with enough warm water to completely submerge your aligners. The crystals must completely dissolve in the fluid after 20 seconds of stirring. For approximately 15 minutes, soak the aligners. Rinse them with warm water after soaking them, then put them back in your mouth or in their container.

Vinegar Solution:

Trays can also be thoroughly cleaned with vinegar, especially if the stains are not too severe. Mix one part vinegar with three parts water to create a solution. Prior to cleaning and washing them properly, let your aligners soak in the solution for around 20 minutes. Vinegar residue never has a flavor that is enjoyable.
For a better understanding, you can contact a cosmetic dentist in Annapolis, Dr. Jody Waddell for any orthodontic issues like crooked teeth, gaps between teeth, crossbite, underbite, overbite, and so on.
Conclusion:
Regular cleaning and maintenance of Invisalign trays are required to keep them free from stains and maintain their effectiveness. Without using metal braces, Invisalign from an emergency dentist in Annapolis, straightens teeth quickly, easily, and invisibly. Invisalign can be a good option for you if your orthodontic issues are mild. Curious to know more? Browse through our website Annapolis dental associates or call us at 410-268-9336 right away!
---