What is the Recommended Age Range for Invisalign for Kids?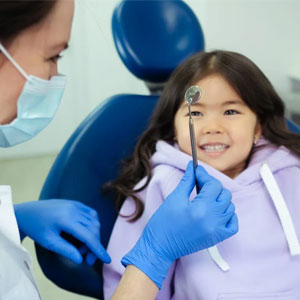 Being a parent, are you troubled when you see your child trying to conceal his/her smile with a napkin at a school function? In a previous blog post, we discussed whether is Invisalign good for children. However, in this blog post, we will understand the kids recommended age range for Invisalign.
At such a tender age, it doesn't matter if their teeth are crooked, chipped, cracked, or gapped. But when they grow up, such issues are going to take a serious toll on their emotional well-being and self-esteem. Wearing braces for kids can be inconvenient as well as a reason to be mocked or bullied among peers.
Invisalign in Annapolis or clear aligners are the perfect solutions in such scenarios.
Can Kids of Any Age Have Invisalign?
It is true that Invisalign is one of the most demanded dental prosthetics to enhance your facial aesthetics, yet is it applicable to everyone? Grown-ups can certainly use Invisalign if they are deemed eligible by dental professionals. But what about the kids? Can kids of any age and dental condition be eligible for Invisalign?
Let's see what the most recommended age suggested by a kid's dentist in Annapolis is to have such dental fixtures.
Invisalign for the Little Ones:
Invisalign can start as early as six years for children. For kids of tender age, Invisalign is apt to restrict pre-existing bite issues and cure unhealthy habits like thumb sucking, lips sucking, grinding teeth, etc. Invisalign is done for rectifying issues like arch development in children, tooth protrusion or crowding, spacing, etc. You can take your kid to a leading dentist near you in Annapolis at a very young age only for such issues and is applicable for their baby teeth.
Invisalign for Teenagers:
For teenagers, Invisalign is mostly meant to correct their smiles. Since the primary purpose of clear aligners is to correct smiles, youngsters need to be very disciplined in their dental routine. They need to wear Invisalign for 20-22 hours a day.
Once they reach the age of 20, they can wear Invisalign for any sort of teeth alignment issues. But, a disciplined routine still remains valid.
Conclusion:
For the best suggestions regarding Invisalign for your kids, do reach out to Dr. Jody Waddell, a known and leading pediatric dentist in Annapolis practicing for years. The dentist not only has great specialized experience but also a team of experts to assist in your treatment. For more, browse through our website or call us at 410-268-9336 right away.
---