Is Teeth Whitening a Secure Procedure for Kids?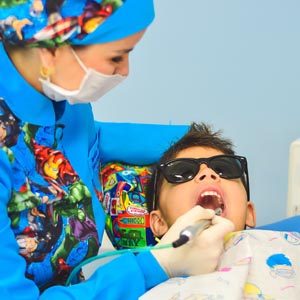 Teeth whitening is usually safe for kids only when done by an experienced pediatric dentist. Before taking your child for teeth whitening to a dentist near you, it's always advisable to check for several facts. In our previous blog, we have explained teeth whitening treatment along with Invisalign in Annapolis. Read on to discover whether teeth whitening is a recommended procedure for children or not from below.
Concerns About Teeth Whitening for Kids:
Teeth whitening for kids often carries several potential risks. For example, there might be teeth whitening strips with a heavy hydrogen peroxide concentration. It undoubtedly will be very effective in whitening your teeth fast. But it can often lead to tooth sensitivity.
Increased Sensitivity and Other Issues:
Also, make sure that you understand that teeth whitening can polish teeth. The procedure has mild abrasives that break down your tooth's stain. However, these will not alter the color of the natural enamel of your child's teeth. For example, when microscopic tooth holes in the enamel of your child's teeth are exposed to teeth whitening strips, it can cause sensitivity to cold or hot food items.
You can also get teeth whitening toothpaste for your kid, which is safe. But, you need to seek a dentist in Annapolis for advice near you. However, instead of doing teeth whitening all by yourself to your kid, you can go for a professional teeth whitening.
Professional Teeth Whitening in Annapolis:
Professional teeth whitening offered by a cosmetic dentistry in Annapolis for kids can be chosen. Because, the professionals know how to treat sensitive teeth. They use medically approved dental bleach powder, which can effectively remove stains. This form of cosmetic dentistry is medically approved. It has a limited concentration of hydrogen peroxide or carbamide peroxide. So, always consult a pediatric dental expert before bleaching your child's teeth.
You need to ensure that the calcification of your kid's teeth is complete before going for any bleaching. The teeth' enamel needs to be completely calcified before whitening the teeth. This will happen only after your kid's adult tooth grows. It can take a couple of years. Before calcification, if you go for teeth whitening for your child, it might collapse the enamel and destroy the gum tissue.
Reasons to Hand Pick Professional Teeth Whitening in Annapolis:
A pediatric dentist knows the quantity of whitening elements to be used.
It creates a sustainable outcome compared to any over-the-counter whitening product.
Kids dentists in Annapolis will use custom-fitted trays instead of a general procedure for your young one.
A professional teeth whitening procedure can extract dense stains from teeth.
It lowers the chances of teeth sensitivity.
Conclusion:
If you are looking for professional teeth whitening in Annapolis that is safe for your kid, consider Dr. Jody M Waddell at Annapolis Dental Associates. Dr. Jody M Waddell is an experienced pediatric dentist. Dr. Jody Waddell will evaluate your kid's dental condition before opting for professional teeth whitening. Browse through our website of Annapolis Dental Associates to learn more about our services. Call us at 410-268-9336 to have a conversation right away.
---